The site Sporteconomy.it has gained some attention during the last couple of weeks amidst the on again/off again takeover of AS Roma, and has emerged as somewhat of a small authority on the matter. Then, sometimes, things happen that can destroy all of that good buzz they've created in a matter of seconds, no matter how many good things they've written in the past. One of those things just happened.
In the last hours, president Florentino Perez has brought a new attacker of tremendous talent to the Spanish Capital. The new bomber is called Novica Velickovic, and has signed a two year contract, with possibilities of a one year extension. To be really competitive, though, Real needs to strengthen the defense as well. With Fabio Cannavaro having moved, the Merengues have to look for other central defenders to place alongside Sergio Ramos. That's how Madrid thought of Valencia's Spaniard Raul Albiol, who is valued at €15 million.

Blogistuta readers, meet this 'new bomber', Novica Velickovic: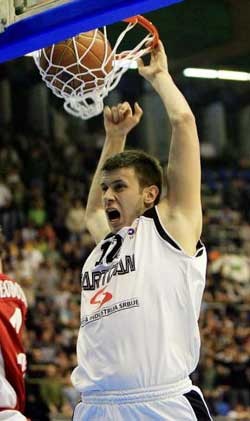 Yes, he plays basketball.
Sporteconomy.it, you're hereby on my black list of disapproval pending the hiring of people who know sports and can distinguish between them.
Sporteconomy.it link >>